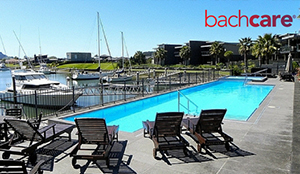 Bachcare Holiday Homes
Whitianga/Coromandel
From family retreats to beach front stays, discover over 60 unique holiday homes for rent in the Bachcare collection in Whitianga and over 400 throughout the Coromandel region. We have properties suitable for every budget, all with instant online booking.
As New Zealand's leading short term rental management company, we have over 1,500 pre-serviced holiday homes throughout the country and with over 100,000 guests choosing to book their holidays with us annually, you can know you're in good hands.
Your friendly local Holiday Manager will prepare your holiday home for you, greet you on arrival and is available throughout your entire Coromandel stay. For enquiries call us on 0800 42 22 42 or book direct through our website.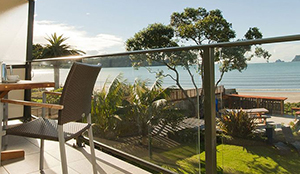 Beachfront Resort
113 Buffalo Beach Rd, Whitianga
Stay right ON the beach, this Absolute Beachfront location is the secret to the special charm of Beachfront Resort
The only motel in Whitianga with direct beach access.
Immaculate self- contained units with well equipped kitchen and modern ensuite bathroom.
Spectacular sea views from your private patio or balcony.
Garden, sun loungers, beach bar and BBQ deck, spa pool, body boards, kayaks, trampoline
A private and peaceful haven just 2.5km from town centre, close to shops, restaurants and the Scallop Festival venue
WiFi, LCD TV, 50+ Sky channels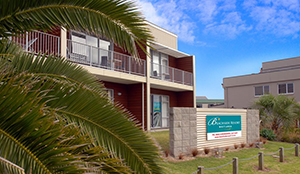 Beachside Resort
20 Eyre St, Whitianga
Beachside Resort Whitianga – offers contemporary motel accommodation and self-catering apartments featuring open plan living areas, modern bathrooms with shower/bath, private balconies and equipped kitchenettes.
Most have awe-inspiring ocean views. Enjoy the heated pool or play a game of tennis, the kids will have fun in the children's play area.
Other facilities include a boat washing area, WiFi, and Sky TV.
There is off street parking and you are just a three-minute stroll to Whitianga's town centre to experience an abundance of cafés, restaurants and boutique stores.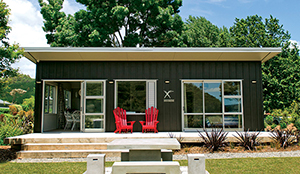 Flaxmill
1031 Purangi Rd, RD1 Whitianga
Enjoy a peaceful, convenient base from which to enjoy this year's Scallop Festival. Located within walking distance from Ferry Landing and the passenger ferry to Whitianga, Flaxmill offers boutique self-contained accommodation for groups, families and singles/couples. Our deluxe 3 bedroom Houses and charming 1 bedroom Cottages are all privately nestled within our landscaped park gardens, adjacent to the sea at Flaxmill Bay. In addition, a small number of powered campsites with immaculate central facilities are available for travellers visiting the area in a Motorhome or Campervan. For booking enquiries, email us at inquiries@flaxmill.co.nz or visit our website.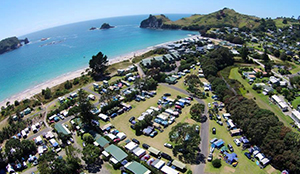 Hahei Holiday Resort
41 Harsant Ave, Hahei
Two minutes on the Ferry and ten minutes on the shuttle or self-drive to and from The Hahei Holiday Resort where paradise awaits you. The Resort sits on 450 metres of the pink and white sand beach frontage and is home to Cathedral Cove and neighbour to Hot Water Beach. You choose your accommodation from luxury Beachfront Batches, Sea view Villas, Garden Studios, Comfort Cabins or beautiful campsites on our 7.5 hector property. Hahei Holiday Resort is the perfect complement to the Whitianga Scallop Festival and we look forward to seeing you here. Book now we will be sold out this weekend.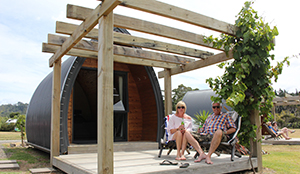 Hot Water Beach Top 10
790 Hot Water Beach Rd, Hot Water Beach
Hot Water Beach TOP 10 is a family owned and operated Holiday Park. Find us nestled amongst native bush and only 700m from Hot Water Beach. HWB TOP 10 Holiday park is perfectly situated to access a variety of things to do in our area. We have great wineries, boutique breweries, pizza and of course awesome surf. Last but not least you can walk down to the beach and dig your own hot natural spa on the beach at low tide.
Our holiday park accommodation has a wide range of choices to satisfy all travellers. From our Deluxe Family Villas, Deluxe Villas, Ensuite Villas, Two or Three Bedroom Motel, Ensuite Units, Deluxe Cabins, Standard Cabins, Backpacker Lodge, through to Powered and Non-Powered sites.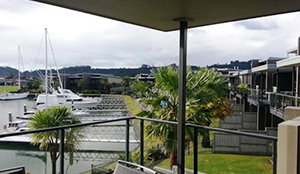 Sovereign Pier
73 South Highway, Whitianga
Sovereign Pier on the Waterways provides 5 Star Luxury Waterfront Accommodation.
Offering 2 & 3 bedroom waterfront Villas. The property is fully gated and has a boat launching ramp for guests with trailer boats.
Other facilities include BBQ, Wi-Fi, Gas Fires, lap pool, tennis court and spa.
All villas have car parking and boat trailer parks.
For more information or to book your accommodation visit our website or call Sonia on 07 867 1236.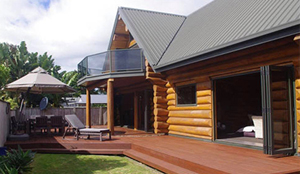 The Log House Matarangi
658 Matarangi Drive, Matarangi
Wanting to stay somewhere a little different? The Log House Matarangi could make your weekend away even more memorable and includes accommodation and transport.  Matarangi is a short 25-minute drive from Whitianga and has a lot to offer. Amazing beaches, stunning golf course, and creates amazing memories.
The Log House Matarangi is a 5-minute walk from the Dune's Golf Course and Restaurant, 3-minute walk to the beach and offers something unique to everyone that stays with us. Our Scallop Weekend Package includes Two nights' accommodation (Friday and Saturday night), Transport to and from the Scallop Festival from Matarangi, Continental breakfast on Saturday and Sunday and bikes/kayaks/golf clubs available for use. Check us out on Facebook or visit our website for more details.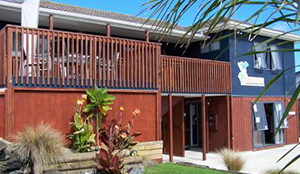 Turtle Cove
14 Bryce Street, Whitianga
Turtle Cove, in the heart of Whitianga, is a comfortable homely hostel with a variety of bed options.
We have doubles, twins, triples, four & six bed dormitories available, a fully equipped, large, modern kitchen, cosy lounge, separate male and female bathrooms and a large outdoor living area.
Only 3 minutes walk to the supermarket of the main street of town and only 30 minutes car ride to Hot Water Beach.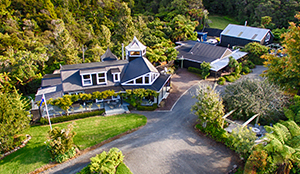 Wairua Lodge B&B
251 Old Coach Rd, Kaimarama
Wairua Lodge B&B began its life as a family home, was once an artist's studio and has now evolved into a stunning rainforest retreat. A secluded place where you can kick back, relax and experience the magic of New Zealand's temperate rainforest.
We offer four double rooms with ensuites and one 2-bedroom apartment set in 15 acres of native rainforest just a short drive from Whitianga and Hot Water Beach.
Our fully equipped guest conservatory kitchen can be used for preparing your own lunch and dinner meals.
Wairua Lodge is more than your average B&B. You can picnic by the swimming holes, swim in the river, enjoy a bushwalk, soak in the treetops bathhouse or marvel at the stars in the night-sky spa pool.